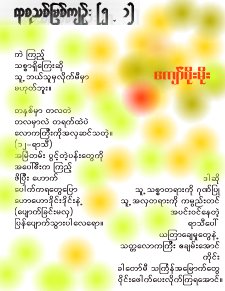 Padauk Politics
Look!
Nobody can compete him
for veracity.
One month in a year
a day in a month
he beautifies the world.
He overlooks,
roars,
gives haphazard speeches,
to the year-round-flowers,
then frankly disappears.
So,
Honour his loyalty
inscribe his beauty.
With poisoned seasonal impending misfortune
for the world's peace
let's on the Thingyan Canon in time for an occasion.